Sunkist Navel® Orange Meringue Pie with Graham Cracker Crust

By: Kelsey Siemens (The Farmer's Daughter)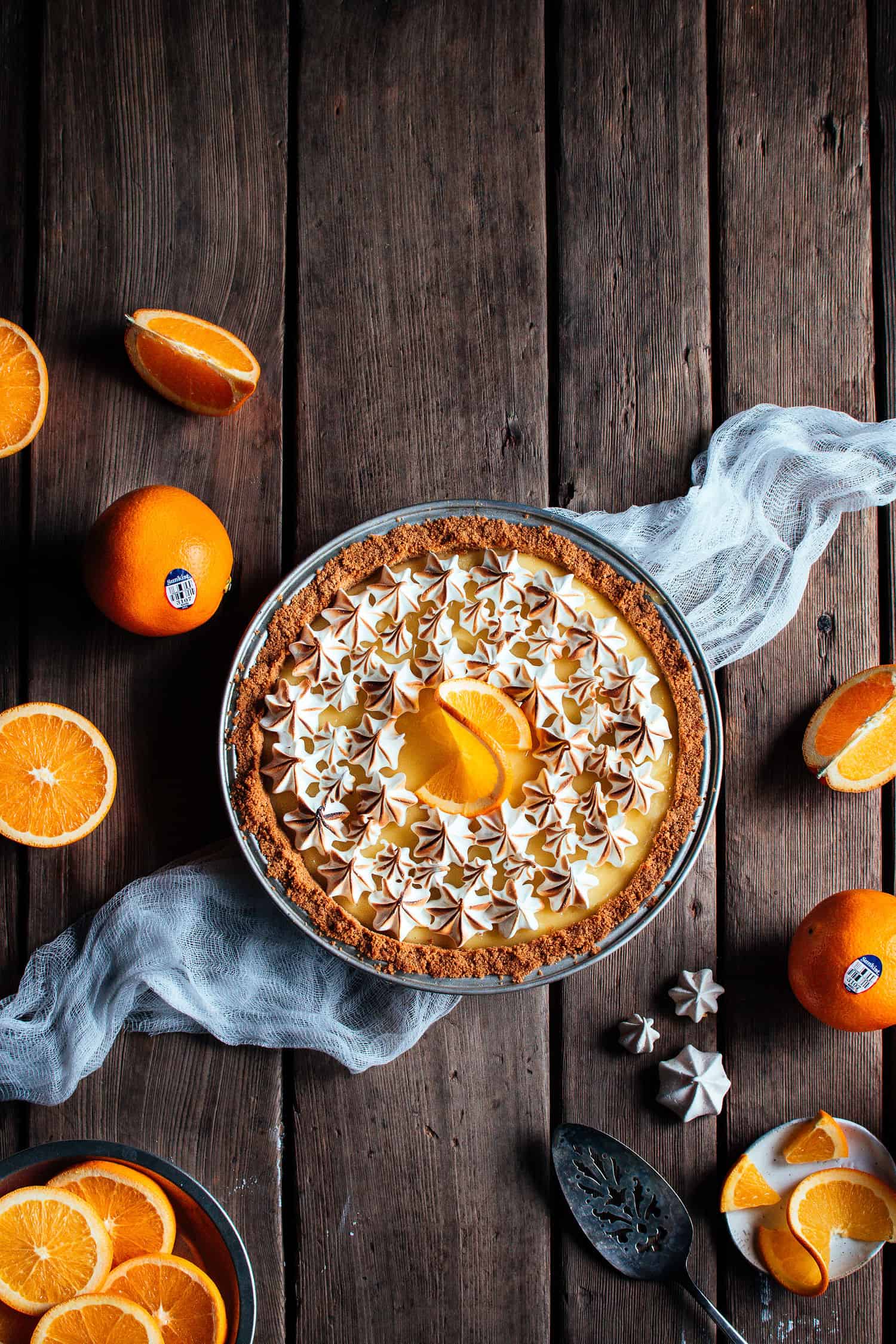 Graham cracker crust
Directions
Preheat the oven to 375 degrees F.

In a small bowl, mix together the graham cracker crumbs and melted butter.

Press the crumbs firmly into a pie plate, bringing them up the sides in an even layer.

Bake for 8-10 minutes, and then set aside to cool.
Sunkist® Navel orange curd filling
Directions
In a medium saucepan, combine the granulated sugar with the Sunkist® Navel orange zest.

Use your fingers to rub the zest into the sugar - this helps bring out the flavour.

In a small bowl,stir the lemon juice and cornstarch together, slowly add in the orange juice and stir until smooth.

Add the liquids to the sugar mixture, and whisk together.

Heat over medium heat, stirring occasionally, until the mixture goes from thin and cloudy to thick and more translucent.

This should take about 5 minutes, and the mixture should be bubbling.

Once thickened, remove from the heat and slowly stream a few tablespoons of the warm mixture into the beaten egg yolks to slowly bring them up in temperature without cooking them.

Then add the warmed egg mixture to the thickened juice mixture very slowly, stirring constantly.

Place back on medium heat, and heat until a few large bubbles burst on the surface (but is not boiling).

Remove from the heat, and whisk in the salt and butter.

Allow to cool for about 5 minutes, whisking occasionally, before pouring into the prepared crust.

Cool to room temperature before covering with plastic wrap and transferring to the fridge to chill for a minimum of 2 hours before preparing to serve.

Before serving, prepare the meringue. This is best done directly before, or at most a couple hours ahead of time.
Meringue
Directions
In a small saucepan, whisk egg whites and sugar together.

Assemble a double boiler by bringing a large pot of water containing a couple inches of water to a boil, and place the saucepan on top. Make sure the bottom doesn't touch the bottom of the larger pan.

Stir occasionally, and heat until mixture reaches 160 degrees F and stay here for a couple minutes. Since we aren't cooking the meringue after it's made, this process is ensuring the eggs are safe to eat.

Remove from the heat, and place mixture into the bowl of a stand mixer fitted with a whisk attachment.

Beat on medium-low speed for 4 minutes while the egg mixture cools, and then increase speed to high for another 4 minutes. Beat until it forms a thick and glossy meringue.

Mix in vanilla extract. Use immediately.

The meringue can be piped onto the pie with a star tip, round tip, or simply spooned over the pie filling and swirled around.

Use a kitchen torch to toast the meringue, or place the entire pie into the oven on broil for a few minutes to brown.

Serve immediately. Store leftover pie in the fridge in an airtight container.